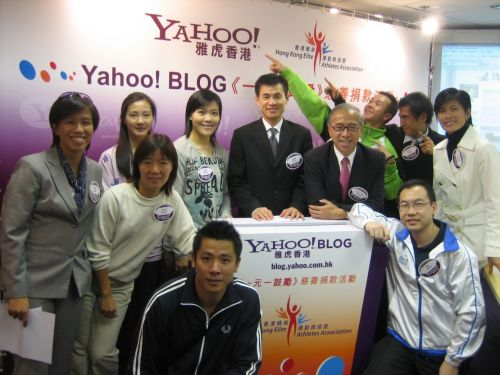 In April, the Elite Athlete Charitable Trust launched the "Athlete Retirement Assistance Grant".
In May,
1)Breakthrough Limited released our second book about athletes: Taking off on the Sports Field.
2)the Association and Harbour City set up the "Sports Hall of Fame" to display the private collections of Hong Kong and international sports superstars. The exhibits were unique in the world, including private collections of more than ten outstanding sports elites in Hong Kong, such as: the "God of Basketball" Mr. Michael Jordan's autographed basketball vest, the football superstar Mr. Alan Shearer's autographed football, more than ten autographed Sport X T-shirts of China Olympic gold medalist Mr. Liu Xiang and Ms. Guo Jingjing, the Hong Kong Olympic gold medalist Ms. Lee Lai Shan 's sail, the bowling and bowling shoes of Ms. Catherine Che Kuk-hung, the first Asian gold medalist in Hong Kong, and the cycling shirt representing Hong Kong and personal time helmets of Former Hong Kong chief cyclist Mr. Hung Chung Yam.
3)the association expressed its concern to the Legislative Council that elite athletes need to move out of the sports institute due to the Olympic equestrian events.
In June, the Association held a press conference to express its position to the public.
In August, Home Affairs Bureau arranged elite athletes a visit to the Wu Kai Sha Holiday Camp, which later became a temporary base for elite athletes.